5 Coaching Traps To Avoid That Will Make You a Brilliant (And More Confident) Life Coach
I believe in coaching. I believe women who hold space in their life to learn powerful skills, master the art of asking powerful questions, and practice their craft with devotion will heal our culture's challenges through their work in the world.
Recently I was working with a client in a group coaching sister circle. Her struggles centered around her relationship with her mother. They were beginning to experience confrontational bumps in the road because of her new focus on building her coaching practice. As she was becoming more sovereign and asking for the kind of support she really needs and desires, her mother was questioning her choices.
A light bulb went off for me! I'd recently had a very similar challenge myself. My immediate reaction was to jump in to connect with my client and resonate! I know what follows that impulse: the desire to give advice from my experience. I could feel my heartbeat get faster and I wanted to say, "That JUST happened to me, too!"
Have you ever had this experience in a coaching session? If you're seeing clients, I know you have. Often our clients will mirror the deepest edges we are working in our own lives. But coaching is not about sharing your experience. Your client's challenge is a mirror, and her needs are not the same as yours. It's selfish and amateur to go into your story.
It took skill and effort to hold myself back. I could feel years of devotion to practicing my coaching skills being put to great use in that moment. As trained coaches, we learn to take our personal experiences off the table and call in our coaching skills instead.
In that moment I felt deeply grateful for my time spent honing my coaching skills and was reminded of the importance of devoting time to the artistry of coaching.
Over the years of working with newer coaches in my program Mentor Masterclass, I've started to recognize that brand new coaches are sometimes better-trained coaches, because their skills are so fresh! The women who have been coaching for a long time who don't practice their skills and are no longer open to receiving feedback gradually become weaker coaches over time.  
These 6-figure coaches, charging thousands for coaching, are giving advice and many have forgotten what coaching really is. It's important to stay in the self-discovery process and evolve to the next layer of working through the blocks you'll encounter (as we all do!) in service to your clients.
Ask yourself "Where do I struggle in coaching sessions? What makes me feel less confident as a coach? Where are my clients not getting results?" Even if you're a seasoned coach, are you willing to ask yourself these questions? We have to be vulnerable and self-aware about the weaker spots in our coaching in order to grow to the next level of leadership.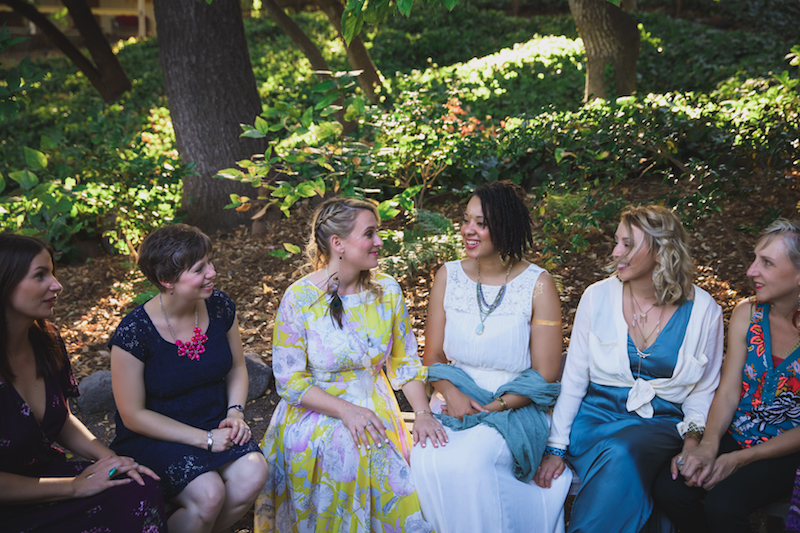 As you read these 5 traps out-of-practice coaches often fall into, you'll notice what might be missing in your own brand and coaching process. When you know how to ask the right questions and avoid the traps we're exploring today, you'll be able to give your clients confidence to help them achieve what they're truly capable of.
Trap #1. Diving into the details and missing the bigger picture. Coaching is about knowing when to give someone space, so make sure your clients have enough of an opportunity to express themselves. An NLP technique you'll learn as a coach is to pace and lead your clients. Pace your clients' reality when you listen attentively to them, then lead them along a path with your questions.
Make sure they have time to open up! If you cut them off, or jump right in with feedback, you're not allowing them the space to hear their own thoughts, access their own insights and go through a deep process of discovery. Everyone else in the world cuts them off, it's your job to hold the most solid, spacious and powerful container for your client to be truly present to what IS.
Trap #2. Getting caught up in your clients' long stories. As a coach, you're probably a great listener who easily builds rapport with clients, which is of course a wonderful thing. But I recommend having a phrase ready in the back of your mind for when you need to cut a story short and steer your client back to what's most important in the session. An example: "Can we just pause for one moment? What's the essential question in your mind as you tell this story?"  
We need to avoid trap #1 without falling into trap #2. Yes, listen and give them space. Create a space where you keep them on track to what is relevant, useful, and empowering. If you become a place for your clients to bitch and complain you're no longer a professional coach. Your job is to guide your client powerfully and efficiently and sometimes that means you need to cut them off. It's not rude, it's expert.
Trap #3. "Rescuing" your clients. When you overstep your boundaries as a coach in order to "rescue" your clients (for example, by offering to contact people for them or writing their to-do lists) you're actually taking away your clients' power!
One of the most incredible gifts we can give our clients is holding them as strong and capable. Your client is in charge of doing the work. Trust that they are capable, always.
Trap #4. Being entertained by the drama. Once again, it's a positive quality to be engaged in your clients' stories about their lives. Just make sure you're not (accidentally) being entertained by the gossip! If your clients sense this from you, they'll find themselves entertaining you with one crisis after another. This dynamic gets in the way of the real work your clients need to do. They need your help to step back and look impartially at their lives.
Trap #5. Feeling like you need to know it all. New coaches are often relieved to find out they don't have to know all the answers. In fact, coaching is one of the few professions where trying to take the reins and prescribe solutions produces negative results. So instead of saying, "You should try this" you might instead say, "What solutions have you thought of"?  
If you feel pressure to have an answer it's a sign you have gone too far into your ego. This happens to both new and seasoned coaches. It's important to remember that your job is to give your client permission to be the know-it-all. Your client has everything they need within them. It's your job to apply the love, skill and pressure that creates the diamond insights and motivation.
Hold these 5 insights close at heart and you'll experience coaching as a light, powerful, fun and ease-filled experience.  
Want to feel confident, clear and re-inspired to hold space for ANY challenge a client could possibly bring to you in a session?! Click here to increase your coaching skills and and experience a week of self-discovery with my intimate support.
We become coaches because we have a natural talent for loving people, listening and knowing how to support them in moving forward. We become successful in this career and craft when we turn our passion into a profession. These are some of the cleanest ways to empower yourself into the next level of thought leadership. It's your ability to work through these traps that will have clients and colleagues raving about your brilliance as a coach and brand.
Which one of these traps do you fall into most? What is your experience of the energy of a session when you fall into these traps? Which trap do you feel you never fall into anymore because you've mastered it? What do you notice about the success your clients experience because of your ability to navigate this challenge as a skilled coach? I would love to hear in the comments below!
In Mentor Masterclass we learn 358 masterful coaching techniques that I've curated to create ease, flow, natural memorization, confidence and mastery. Learn more about Mentor Masterclass and experience what it would be like to join our sisterhood and life coach training program by committing to a week of Self-Discovery. I'm ready to commit.
Women in Mentor Masterclass sell out their services because their training and coaching mastery creates a reputation that attracts attention and trust. I believe in a feminine approach to creating time and financial freedom that involves high-touch mentorship and intimate coaching. Self-care and healing first leads to success as a thought leader who's in service to others.  
Sign up for the free Self-Discovery Week to deepen your self-healing and coaching mastery practice today!
And if you liked the 5 traps to avoid, stay tuned – I've got 5 more coming your way next week to complete this guide!
All my love,

Love this content? Get weekly in-the-know solutions and stay connected with Jey
Join 1,000s of women expanding their light around the world.