6 Ways to Passionately Resolve Your Biggest Frustrations Building Your Life Coaching Business
As a solopreneur who works from home, a huge part of my work in the world revolves around having a strong internet connection. It's an absolute must-have!
I live in a part of the world that should have a great internet connection, but tech difficulties always seemed to creep in. My internet connection was so slow at times that I couldn't even do my work: recording interviews became impossible, calls with my team kept getting interrupted, and more.
It was so frustrating!
And I'll admit this to you: for 6 months, I avoided taking deep action on solving this problem. I'd complain to my husband, and that was about it.
When we have fears, especially around being seen and growing our businesses, it's so easy to avoid taking action and just stick to complaining. I fell right into that trap.
I avoided reaching out to celebrities in my industry to become a part of my program Mentor Masterclass because I was afraid I'd be too embarrassed by my low-quality internet connection. I wouldn't be able to film the Skype interviews or even communicate with them reliably.
I decided to simply wait until I figured out the problem…that I wasn't even working to solve! What a circular limiting belief.
Feminine leadership is about self-responsibility and leading into collaboration. It's not about doing it alone, powering through, and refusing to ask for help. It's also not about expecting our issues to be solved by other people.
Sometimes we're sitting on a solution, but fear is keeping us stuck in place.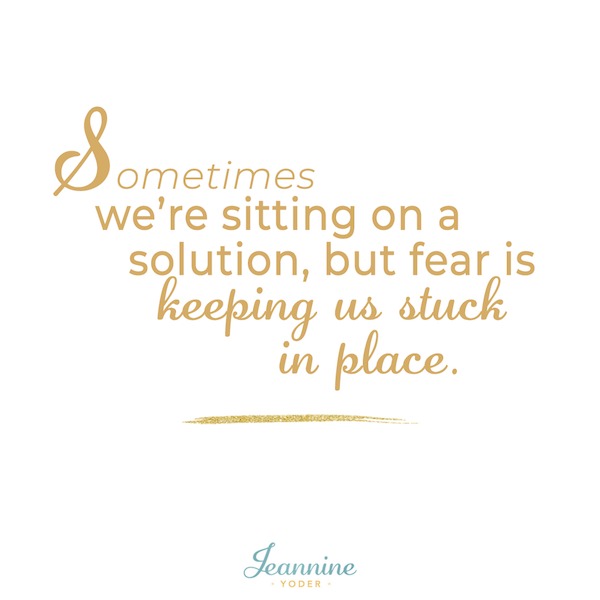 I worked through this challenging situation by using 6 NLP techniques to guide me through the process. I'm sharing them today! I can't wait to hear about how they work for you, too.
6 NLP Techniques You Can Use to Transform Conflict Into Positive Action & Feminine Leadership:
Focus on staying calm and curious.
Managing your emotions to remain in a calm and curious state equips you to work through interactions that feel negative. You'll feel more confident and close to a flow state.
One of the ways to get in touch with your flow state is to feel gratitude. When you pay attention to what you're thankful for in your life, the bad stuff gets crowded out. For me, this was so true with Brent – when I thought about all the things he does around the house I felt so thankful for, I was able to stop blaming him for the low-quality internet connection.
I realized that to show gratitude I could try to solve this issue on my own instead of just complaining to Brent and expecting him to solve it. I was able to keep that powerful dynamic of the masculine/feminine alive in my relationship by asking Brent to help me fix the problem, and as a feminine leader I could feel into my emotions and collaborate toward a solution. This began with an apology, sharing my desire for better service with Brent and asking him what I could do to support. The strategy and collaboration began!
Get clear on what you want and build a strategy around making it happen!
Brent and I both work from home and knew we needed to fix our internet connection issue. We were able to create a larger purpose behind solving this problem. When we talked about our true desires to grow our businesses, both of us agreed the daily struggle was a major hinderence and distraction. This gave us the level of passionate resolve we needed to put this on the top of our list.  
We created a list of challenges, questions and ideas. What resources did we need to solve this problem?
Tap into your resources.
Resources are all around you! Feel into your own sense of creativity and fun as you keep an eye out for others who can serve as role models.
Too many entrepreneurs in the coaching world struggle with the belief that they don't have enough resources to grow their list, make connections, and more. I really put a lot of time into growing and creating relationships with influencers in my field. A lot of the confidence came from the same skills we master in my full-length premium life coaching course, Mentor Masterclass.
You need to create relationships in your field. Otherwise you'll feel stuck and feel like an outcast, like everyone else is connected while you're not. In Mentor Masterclass we focus on sisterhood and support and we make sure this never happens! (We'll also be working through this in my new Captivating Feminine Healer Certification Training coming up later this year.)
I applied this very same NLP approach to this challenge and the autopilot way I wanted to blame my husband for the problem and wait for him to fix it. We made a list of our personal assets and places we could go for help. We divided the list between the two of us to take care of it once and for all.  
I focused on using my skill of communication with the internet company and Brent used his handyman skills to run a new hard wire line straight from the router to our computers.
Develop unshakable beliefs.
Say this to yourself: "I can do this." Then work on believing it!
Talking with customer service internet companies is wildly annoying. Running hard lines through the house is NOT easy and requires a bit of hard labor. Having mantras is important. Brent and I supported each other and ourselves by realizing we could solve this and allowing the energy of our commitment to guide us.
Respect values.
Pay attention to and honor your values and the values of the people around you. This is really simple right? You know what's important to you and what you can not live without. Make sure you're solving the problem and challenge in a way that honors what you care about and love most in your life.
We did not allow this issue to take over spending time with our daughter, or each other. We carved out time in our calendar and took care of it when we had designated space to give it focus.
Let passion and purpose spur you on to greater action.
Solving this problem led us to address other issues in our connection with each other and in taking risky leaps in our business. We used this same 6-step process over and over and continued to remember that complaining is not the way to achieve your dream life.
The result was better internet, a more intimate connection to my husband and newfound leadership skills. Soon, I was reaching out to high-level thought leaders like Danielle LaPorte, Gabby Bernstein, and many others who have now become celebrity mentors in my signature life coach training program, Mentor Masterclass.
I finally found the self-responsibility and trust I needed to take my business and the quality of my programs to an entirely new level of professionalism and genius.
Is there something you've been working through that you'll be applying these steps to? What's the hardest thing you're facing in building your coaching business right now? Have you successfully worked through a negative interaction or challenge? I'd love to hear all about it in the comments!
P.S. In two weeks we'll be opening enrollment for my all-new Captivating Feminine Leadership Level One Healer Training. Join me for two days, live and in-person for a workshop that will change your life. This can be the year you recognize your true purpose is deeper than coaching – you are a healer. More info coming…make sure to read Wake Up Wednesday on May 30th!
All my love,

Love this content? Get weekly in-the-know solutions and stay connected with Jey
Join 1,000s of women expanding their light around the world.