Are You On The Guestlist? Save Your Spot for the VIP Captivating Leadership 101 Training
Last year I invited a family constellation therapist to lead 9 women through a leadership healing session – the meditation we received BLEW our minds and hearts open!
On that day I received the final piece of understanding I needed to complete a healer training I've been working on for 3 years. It's here! And I wanted to let you know first so you can register for it today, for FREE.
Want to know what is stopping you from feeling and being Captivating?  
Captivating is all about Universal Energy Flow.
UEF is the natural flow of energy exemplified in the earth, sun, moon, sky, stars, waterfalls, ocean, air, wind, storms, wildlife and rainbows. Humans can access the universal energy flow when they are in a place of love. It can flow into them and be exchanged with others, too.
As I was collaborating with Natalie in this healing session, we uncovered how those in our circle are held back by leaders in our memory (relationships in this lifetime) or lineage.  
One example from lineage that came up: those who have Jewish lineage may resist any form of taking on authority or being seen because of what Hitler inflicted using dictatorship. These women have learned to hide in order to survive.  
Similarly, women of German descent may fear their leadership could become manipulative and lead to the harm of others. These women fear, judge and diminish their confidence in order to remain meek.   
This is just one example of a DNA relationship to leadership that may hold women back. There are many stories, memories and beliefs influencing our daily ability to feel a graceful, joyful flow and confidence to take on the role of a leader.
You may not want to be a leader with a mass following and yet you know you have to be a leader everyday in small ways. It takes leadership skills to run a business, decide what's for dinner, parent your children, and communicate with your partner.
Women are called to have a voice and heal systems of Patriarchy once and for all. We can no longer be quiet and we are curating a sisterhood and strength like the world has never known.
I learned something I can never unlearn in my devotion to embodying Captivating Feminine Leadership: personal healing and the ability to heal others is exactly what we need to be able to expand our daily life into sustainable success. This is pivotal training if we are coaching women.
On June 7th, I'm doing a special free training and you're invited: NEW! Captivating Feminine Leadership 101:  The Proven Way to Run A Soul Aligned Business And Heal Your Fear of Being Seen (Without Sacrificing Love, Time & Financial Freedom)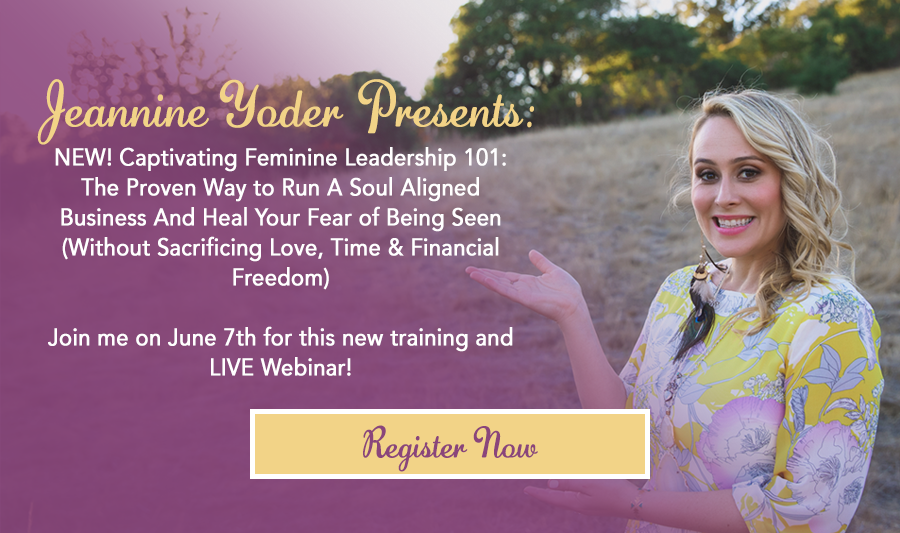 To me, Feminine Leadership means a woman powerfully standing in sovereignty, open to receptivity. She's present, radiant, whole, and responsible for her healing journey. Regardless of her background and qualifications, she's divinely qualified to serve humanity with her gifts.
I work with my clients on an energetic level and my understanding of energy, the mind, coaching and healing has helped me guide clients, students, trained coaches and healers to discover their own inner ability to heal and lead. My simple message of self-love, receptivity and sisterhood has allowed thousands of women from around the world to create life-changing approaches to their work in order to lead sought-after coaching and healing practices without sacrificing freedom.
I see you in your struggle to trust the words raging in your heart as you feel called to speak up online about what you see and how you feel.
I witness you in your desire to take the stage without feeling unsure and sweating through your clothes.
I understand your conflict with addressing deeper world problems in fear your credibility will be questioned or your work will be scrutinized.
I recognize your desire to feel equipped in healing the women you serve of their fear of being seen.
I know what it feels like to desire spaciousness and family time while still being able to run a successful business.
It is possible to hold it all together as CEO and an entrepreneur wearing so many hats.
Here is what I need you to know: you are not alone and the time has come for us to walk through the fire and heal these stories once and for ALL. It's time to get on with your work and do what you came here to do.
Now, if you want to take some of what we just learned and use it to create a new business model and heal your fear of being seen, I can support you. Even if you feel like there is no way to be successful without sacrificing your freedom, I'll show you how to not only believe it but integrate new practices into your life – using a strength you already have.
Then I'll show you exactly how to stop making the biggest mistake most women entrepreneurs, coaches and healers are making (that leads to burnout and scaring away dream clients) – even if you are timid and judgemental of your own healing gifts and magical abilities.
Scarcity marketing and guru-style healing are old paradigms we can no longer maintain. Instead, let's create a foundation for sharing your work in the world based on ease and flow. These are natural states within you, and now is the time for you to stop hiding.
On June 7th, 2018, I'm doing a special free training: NEW! Captivating Feminine Leadership 101:  The Proven Way to Run A Soul Aligned Business And Heal Your Fear of Being Seen (Without Sacrificing Love, Time & Financial Freedom)
Remember, this is about how to overcome overwhelm (and truly enjoy your life outside of work), so there's no need to do anything at all but show up feeling relaxed and ready for a good time!

The event is completely free for you as a part of our inner circle and sisterhood. And here's the best part: You'll be able to put the practices you learn into creation as soon as you hang up from our live call.
You'll discover:
Why my business model doesn't look like most teachers' or marketers, and how to create your unique sacred structure

The simple process you're forgetting before you take the stage or share your new product, service or book (we'll go behind the scenes of my rituals and practices to up-level your happiness in a heartbeat)

The secret to sustainable success in a rapidly changing industry
Just remember, this is a one-time-only event.
If you want to attend I invite you to RSVP for the training on June 7th, 2018 here.
Click here to reserve your spot, sister.

Love this content? Get weekly in-the-know solutions and stay connected with Jey
Join 1,000s of women expanding their light around the world.