Forget the Teaching Moment, Shall We?
Today I trust that my messy parts are the very thing that makes me brilliant.
In this video, I share an update with you in the raw brilliant moment and messiness that life is, most of the time.
I cut the video short because my daughter was seeking my attention and I think I say enough to make my point.  
Every moment in our lives we make choices that initiate our next personal experience. And while I don't know exactly how the 5 choices I just made will turn out, I'm confident in my approach to love, life and business. It took a lot to get here, to this place of alignment and clarity, and it feels good. Not great. Good.  
I have about five years of experience making decisions from a sovereign and holistic approach to my devotions. I have learned enough to know that in this moment, choosing my commitments in this order, leads to happiness:
Soul

Self

Family

Business support team

Clients

Sustainable Business Success
It's standard in our personal development world to try to close out our vulnerable moments with a call to action or a "teaching moment". I'm not going to do that today. You're probably sick of that, anyway.
Instead, I want to share what's real.
Some days I feel confused, life looks messy and I question my choices. Today I am IN it and I make a choice right before your eyes to fall back on my word in honor of leaning into the needs of myself and my team. I believe all of us struggle behind the scenes of our success and very few women are willing to leave it at that.  
This is my way of breaking through old patterns and limitations and showing up even when my choice is to not do what I said I was going to do. This is my way of integrating Captivating Feminine Leadership into my daily choices – something I'm going to be teaching women thought leaders and coaches how to do more effectively, very soon.  
And because this is what I'm preparing to lead in the world I of course will first be tested on how authentically I'm willing to apply my own ideas into action in the face of challenge.
There are days I look and feel beautiful, rock the cover of The New York Times and brilliantly show up to support my clients in the darkest hours of creating sustainable success in their coaching businesses. No matter how many things are going amazingly perfect and are completely noteworthy, there's definitely one thing that is slipping through the cracks.  
Nobody brushes their hair every single day. Everybody poops. Most of us do our own laundry, at least part of the time. There's not a man or woman on earth who shows up perfectly fierce in their role of CEO and as a present loving parent all day long. NOBODY.
So there's no teaching moment here. There's just this. This is what is happening. We've pushed back the launch date of our brand new content so myself, my family and my team can benefit from the spaciousness. The spaciousness is gifting us the energy and the intuition to be even more brilliant with the free, game-changing content we will provide our loyal tribe this year.
And the truth, the truth of these moments will inspire more women in the world to believe. You have what it takes within you to be successful. I know you do.  
If we all stopped pretending and revealed a little bit more of what is real, perhaps we'd get a move on with our fierce selves and do the real work we came here to do.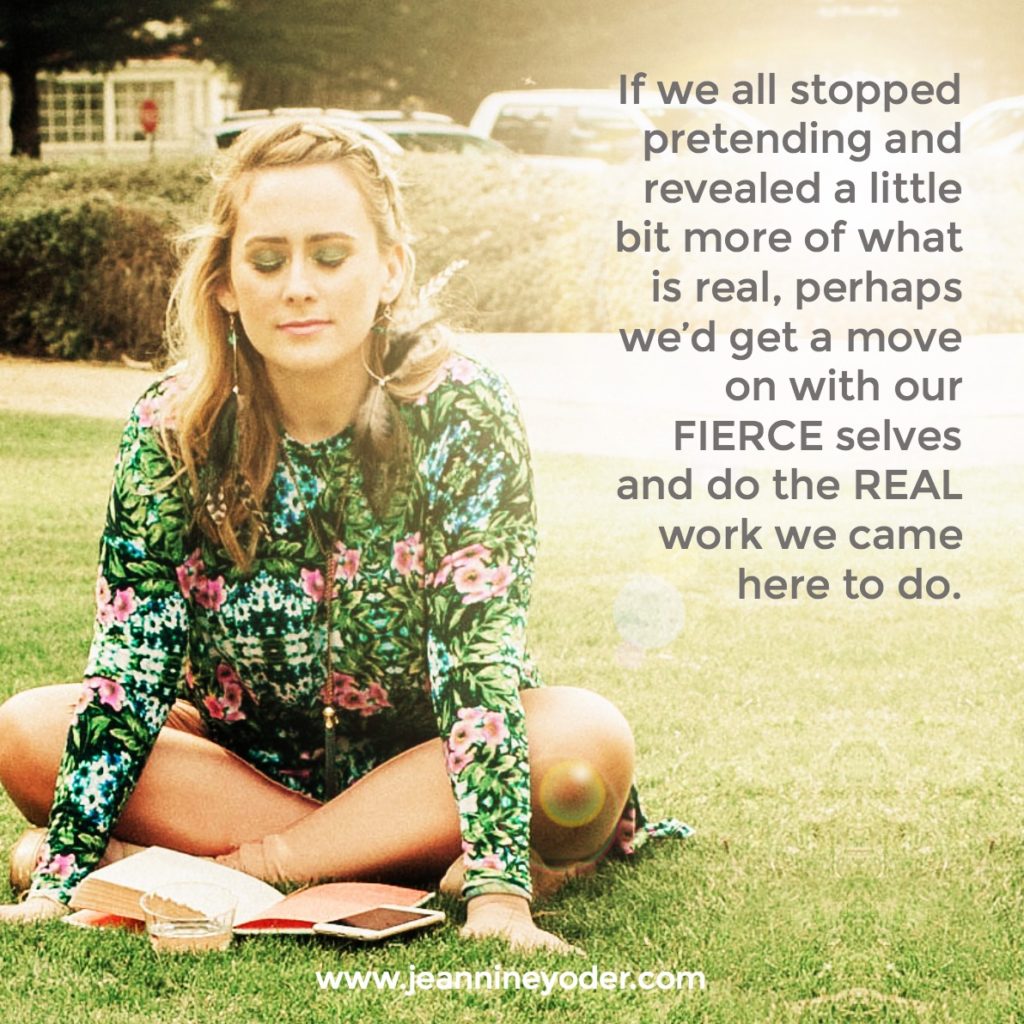 It's the illusions some successful women paint that keep us all trapped.
The only thing you have to do is stick around and open my emails each week to see how it all turns out. And tell me that my hair still looks great, even if I don't brush it (before making a video for thousands of women to see around the world).
Oh, and I love you and ALL your mess.  Thanks for loving me.
XO,

Love this content? Get weekly in-the-know solutions and stay connected with Jey
Join 1,000s of women expanding their light around the world.