How To Devote Yourself to Motherhood AND Your Life Coaching Business (Yes, It's Possible)
It's Q&A week here on Wake Up Wednesday, where we dig deep into the feminine leadership topics on our minds. Chances are, when someone in our sister tribe has a question she needs answered, you'll benefit from hearing us jam on it, too!
Ambar asks:
"Raising a baby and growing a business are two things that both require a great deal of time and dedication. In a sense, they are both our babies, right?! Sometimes I feel like I'm being pulled in opposite directions! For example, thinking of work instead of being present with my daughter, or feeling like I'm missing out on quality time with my daughter when I am working…
How do you balance running a successful business with being a devoted mother?
Today's question comes from Ambar, a Mentor Masterclass grad who's also a wife, mama, self-care coach and stress relief specialist who works with moms struggling with anxiety. She teaches her clients natural ways to relieve stress so they can stop feeling guilty about taking time for themselves and enjoy more time with their children.
Mentor Masterclass is always a time of breakthroughs and growth for my students, and when Ambar was in Mentor Masterclass she was still narrowing down her niche until she landed on exactly what she was meant to do in the world.
Meanwhile, I was going through growth and life changes of my own – I gave birth to my baby girl Violet during the time Ambar was in the program.
I get to know each woman in Mentor Masterclass over the course of the year, and I got to receive Ambar's coaching myself as part of the program. She was already a natural when it came to feminine leadership, always so insightful and wise. It's no surprise that Ambar has a truly important question to ask today for Q&A week. (Keep on reading or jump right over to Ambar's question at the 2:40 point in the video below.)
I'm so excited to talk about being a mother while running a coaching business today, especially since we're celebrating Mother's Day this week! I've been doing my very best to walk my talk in this area, be honest with myself and heal the energy leaks that could pull me in two different directions, feeling conflicted between my business and my role as a mother.
When I notice this conflicted energy, I turn to a tool I love teaching in Mentor Masterclass (I describe what this is at the 5:55 mark in the video.)
Three different parts of our brain play a role in our ability to focus:
Our thoughts. The part of each one of us that's human.

Our emotions. The part of the mind that reacts and makes us feel.

Our actions. What we physically do when we react to a situation.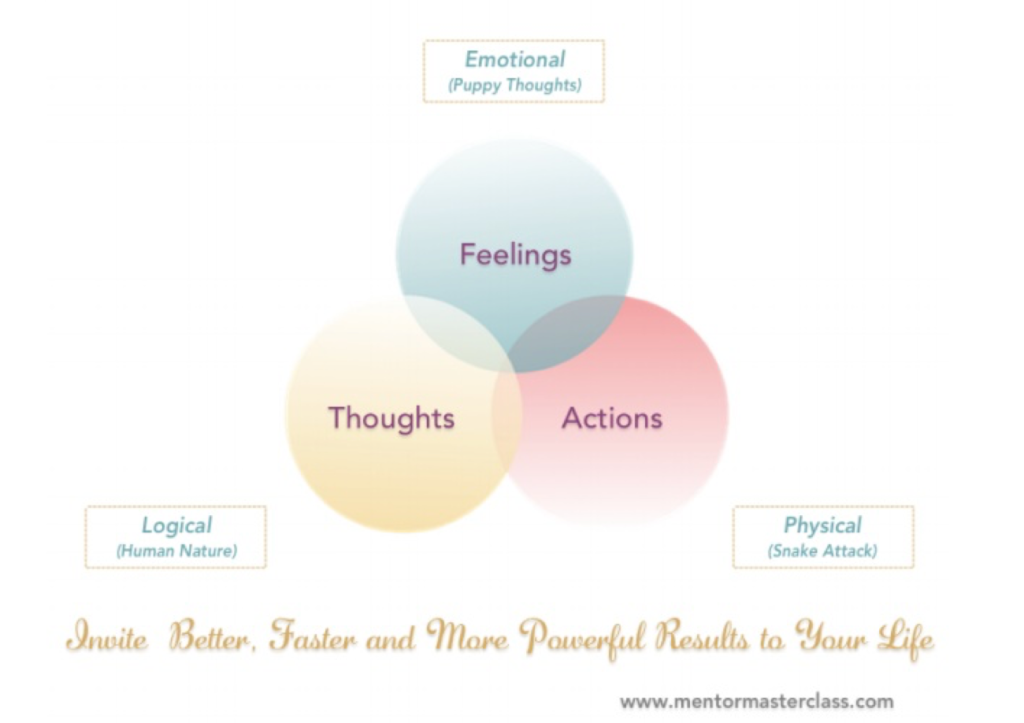 If we don't take the time to think through each of these three aspects of our brains, we'll never be able to focus! Many of us feel comfortable creating boundaries around the time we need to do things, but we don't create boundaries around the time we need to think through and reflect on our values, priorities and personal lives.
Before you have your first baby, you think you know what you're going to want, but it can change! (Hop over to the 7:45 point in the video above to hear our discussion around this.) Too often we're left holding onto what we thought we wanted when it comes to being a mother while running a coaching business, and not taking the time to check in with ourselves as our needs change.
When I became pregnant with Violet while running my business, I was so sure I'd want three months of maternity leave after she was born. I thought I'd have plenty of time to adjust to motherhood and jump back into work since I only work 21 hours a week (and all from home). I felt into my priorities and values, emotions and thoughts, and put a plan into place to make it happen.
After three months I just wasn't ready to go full on into my work again! I didn't know at that point that the right thing to do would have been to check in with myself to see how my desires around being a mother while running a coaching business might evolve as I experienced how it really felt.  Instead, I thought I needed to stick to my original commitment and plan.
I recently had a client in the exact opposite situation – she thought she'd want six months of maternity leave, but three months felt like plenty for her. But at first, she felt obligated to stick to the original six-month maternity leave plan.
Motherhood requires us to be in feminine energy. (Hear more about what I mean at 9:35 in the video).
Being a mother while running a coaching business requires you to change course, set up structures, and then feel in in the present moment when it comes to your thoughts, emotions, and actions.
If you're living out of alignment with your CURRENT values, it will feel hard to be present in both motherhood and in your coaching business.
So take the time to sit down and ask yourself:
What are my thoughts about this?

What do I truly value?

What's most important to me right now?
Ambar, for instance, felt conflicted when she'd set aside time to work on her business, but could also hear her family playing downstairs, creating magical moments together. Should she stop her work and go join them? Should she stick to the plan she'd made to work on her business? What about when she's playing with her daughter, but an amazing business idea comes to her and she needs to get it out into the world right away?
In these moments when you feel conflicted, the time you've spent asking yourself these questions, journaling or maybe working with a coach will allow you to instantly remind yourself why you're doing all of these meaningful things. It's all part of embracing feminine leadership.
If you're clear on the three questions above, you'll be able to navigate in the moment and recognize whether you're still in alignment with what's most important to you, feel into whether what you're doing still lines up with it, and what you can do differently to get back into alignment if you need to.
For me, I like to create structure around my desires. I know that I love my work AND that I don't want to miss out on these years that fly by with Violet. I put extra effort into hiring THE BEST caretaker for Violet, while I work 21 hours a week. That amount feels good and balanced to me. It also means I interviewed over 27 nannies and was willing to pay more when I found the woman I knew Violet would LOVE spending time with and who would honor our values and parenting.  
I also know that after two straight days of working from home (Monday and Tuesday) I miss Violet and crave playing with her. So, I take Wednesdays off every week to be with her and go on adventures.  
I also know if all of my time is mommy and CEO I will become bitter and burnt out. So on Fridays I have four hours of self-care time carved out for extra-special things like massages, long walks alone or, whatever I feel called to indulge in. In addition, we have a date night at least twice a month just Brent and me.
All of these things that are blocked on my calendar were created from knowing my thoughts, what I value and what's important to me right now.  
The key is, I check in with these 3 questions again every three months to see if I still feel the same.
I allow myself to shift course in the moment, too! There are some Wednesdays I just have to write and there are some Mondays I'm not ready to dig back into work and prefer to hang with my baby girl.
The beauty about being your own boss is you get to shift and have the freedom to change things up.  I do this often and it feels incredible to know I CAN. And you can, too. It's all a choice.
The essence of your feminine leadership always says, "There's room for a little chaos. I can change things up! I can feel into any situation and know what's right for me in the moment using my intuition."
We should all set reminders to check in with ourselves because it's the easiest piece of the process to overlook. (Ambar and I jam on this at the 21-minute mark in the video.)
I'd love to hear your thoughts in the comments! Do you take time to journal and think through your priorities? What comes up for you around feminine leadership when you do? I can't wait to read all about it, so comment below!
P.S. 2018 can be the year you recognize your true purpose is to be your own boss and you recognize your talents run deeper than coaching, you are a healer and a leader.
Soon we'll be opening enrollment for my all-new Captivating Feminine Leadership Level One Healer Training. Join me for two days, live and in-person for a workshop that will change your life. More info coming May 30th on Wake Up Wednesday!  Make sure to check your email on that day.
All my love,

Love this content? Get weekly in-the-know solutions and stay connected with Jey
Join 1,000s of women expanding their light around the world.