How to Get Anything You Want in Life: Captivating Feminine Leadership (A Brand New Free Training, Part 1 of 4.)
One of the things I love most about you and our sister tribe is our immediate ability to connect through language.  
Because of our devotion to positive mindset, untamed life experiences and shared values, we speak the same language. I sometimes use words and phrases that most people would find weird or confusing. And not only do you get it, you have a full-bodied and all-knowing response to it.
(Full-bodied and all-knowing are perfect examples of the kind of language I'm talking about!)  
Language IS a reflection of our state of mind. Every word we say matters. Language creates rapport or builds barriers between us and our ability to resonate and connect.
Today we'll dive into Part 1 of a four-part free training I'll feature here on Wake Up Wednesday where we'll break down the elements of language that will make or break your ability to become a Captivating Feminine Leader.
Captivating. Feminine. Leadership.
Each of these words is a lamppost to the wholeness you crave in your personal life and in your business.
I believe I was meant to be in your life to hold an energetic container that will connect you with powerful parts of yourself that have been quiet and dormant until now. Every Wake Up Wednesday, I hold intimate space for you, so you can hear your own voice and respond to it with trust. Every week you have an opportunity to connect with me and sisters in our tribe to grow your inner support circle.
I hold the space and the vision for you to retrieve what you're disconnected from in a completely new and profound way. Thank you for being here every week and allowing me to witness you.
Captivating, Feminine. Leadership.
This FREE 4-part training is a sister-shared devotional practice to create freedom in our lives. We'll explore simple ways to rise up as Captivating Feminine Leaders together.
First, we have to create a connection to the "why" behind Captivating Feminine Leadership. What does it even mean to be a captivating feminine leader and why is it important in our personal lives and in our businesses?
These aren't just words – they are 3 stepping stones to break down the barriers between our life now and our dream experience.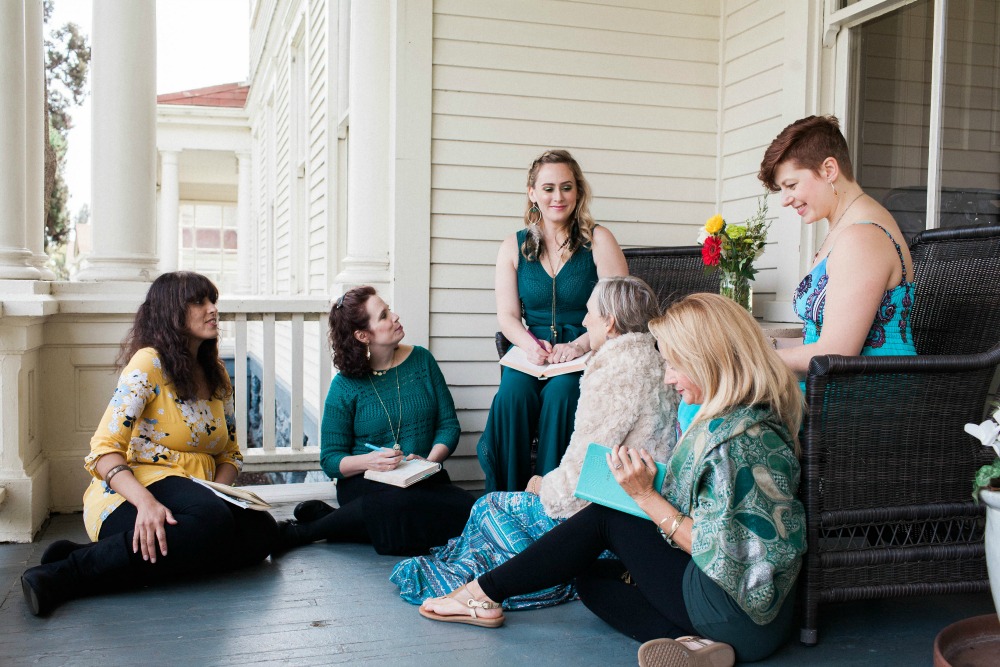 What is feminine leadership?
I ask this question because it's the first step to getting what you want in life and discovering whether you have what it takes to become a captivating feminine leader. I ask this without knowing the answer. I don't have the answer to this question and I can't help you to answer it, either. Only YOU can answer this question.
I'm walking this path beside you. My gift and passion is modeling what leadership can look like without standing ahead, above or on top of you. I want to receive messages and transformation, through you and your unique voice. Through the harmony of our connection that bleeds into a circle of powerful women. Your answer to this question will usher in a response of unmatched wisdom.
For two years I haven't read a book by another woman or taken notes during coaching sessions or trainings. I've allowed my teacher's words to inspire my own. If there was anything left to be written, it was written by ME.
When I was first preparing this training, I sat looking at a blank page. The blinking line on a new google doc, with no inspiration but the wisdom from within and what I feel truly called to share in service of my personal evolution and the women who are called to sit in circle beside me.
And this, I believe, is Captivating Feminine Leadership.
We're waiting for YOUR voice. We're waiting for all of the corners of YOUR inner truth to be swept up and shared. We're waiting to FEEL you. We're waiting, and you are the only thing that stands between that kind of powerful connection, liberation and evolution.
As this training unfolds over the next few months, I'll be speaking only with the intention of hearing what you have to share and say. This is an invitation to a new conversation and a new way of experiencing yourself in connection to a mentor and within a group of women.
And so our training begins by hearing from you in the comments below: What does the phrase captivating feminine leadership mean to you?
I would love to learn from you! Today we discover as a circle what it feels like to allow ourselves to speak and be seen. It's not about copying someone else's ideas, comparing our way of leading to each other or even thinking that we have all of the answers and no one else can match our wisdom. It's about taking a moment to share in a trusted circle and then taking another moment to read the words and witness our sisters as they share their unique message with the world.
Take a moment and allow yourself to speak wild, untamed and free in the comments below (before reading anybody else's comment share your voice, unbridled). Then take it a step further, read and respond to the words of a sister and support her.
As you take these two simple steps you are embracing the first part of our journey. Today you discover what it truly means to be Captivating.
For part 2 of this training, we'll explore the word captivating and how it plays out in our lives. Join us now for part 2!
P.S. Some of my favorite captivating feminine leaders are current celebrity mentors inside my all-in life coach training program, Mentor Masterclass. You can meet them and apply to join us as a part of the program this year, right here.
All my love,

Love this content? Get weekly in-the-know solutions and stay connected with Jey
Join 1,000s of women expanding their light around the world.