Ready To Transform Your Career And Heal Your Fear of Being Seen As A Life Coach & Healer? I've Got A Meditation and An Invitation, Just For You
Every time I lead one of my Captivate Retreats (all about visibility and taking the stage), no matter how confident my attendees feel when they walk into the room, there's one thing that always trips them up:
Being visible.
All of these women are extraordinary (just like you). All of them.
But when the moment comes to take the stage, and shine in the spotlight? Their instinct is to shrink. All their negative self-talk and self-loathing starts to surface, and they shy away with sweaty armpits.
So I created something for them. And now? I'm giving it to you right here, right now. For free.
It's a powerful meditation, and a potent way to experience soul renewal and replenishment so you can take the stage.
I call it the Captivating Confidence Meditation, and you can listen to it right here for the next 72 hours for free (you'll find it at the bottom of this page).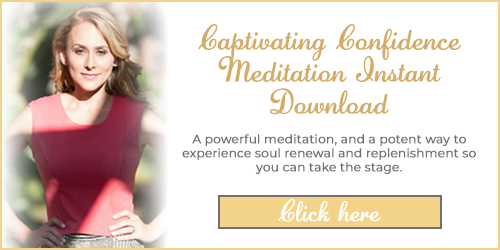 While access to this meditation usually requires a small investment, I felt called to hand it over to you today (for a limited amount of time for free).
Partly because public speaking and being seen is a crazy common fear that holds women back, and it doesn't have to be. And partly because this meditation is a powerful and potent way for you to experience soul renewal and replenishment so you can take the stage, connect to your audience, and share your message with power and confidence to inspire others.  
Because now more than ever, I believe we need women like you to step forward as leaders. We're being called to speak up.
We don't just want to see you. We need you speaking from stages and livestreams, leading sister circles, and teaching and healing us. You deserve to live your purpose in this life and we deserve to receive what is meant to move through you.
If it makes you uncomfortable to hear that, it is time to heal and I've got you sister. I know it's uncomfortable and you are ready.
The nature of the industry is changing. The nature of the world is changing. You may feel the old masculine systems and structures for success crumbling — and just know, love, that your intuition is right. You are onto something and there is no more room to waste time.
So if you've been feeling the call, deep in your soul, to step forward and trust yourself as a leader? There's a reason for it — even if you can't quite put your finger on why or how.
Now, it's up to us to decide what will be in its place. We can create that reality ourselves — but we can't do it if we're hiding away or burnt out.
Helping women heal intrinsically and become captivating extrinsically, becoming trail blazing entrepreneurs and visionaries is my life's work.
Which is why I'm thrilled to invite you to a brand new workshop I'm hosting in New York City this July 14th – 15th, 2018 as part of my larger Captivating Feminine Leadership Healing Training (also known as CFL).
CFL is a 3-part workshop series designed to empower and activate a new age of women leaders, healers, and entrepreneurs. It's the only event you need to attend this year to receive intimate coaching, sisterhood, strategies, and healing in order to finally take that next big step in your life and business with ease.
And in New York City this July? We're throwing open the doors of the first workshop.  Just attend this one and you'll know if you are interested in joining us for the future workshops, later in the year.
It's called Captivate, and involves a mix of Embody dance, mastery level NLP life coaching technique study, mastermind sessions, sister circles, meditation, breathwork, energy work, healing, self-reflection, and more.
(Interested? Get moving right now, Mama. The cart closes for this event on June 29th, and the remaining workshops for September and November are almost sold out. Click here to get all the details and grab your ticket before it's gone!)
Here are all the details, my dear:
Where and when?
Captivate!, July 14th – 15th, 2018 (10am-4pm)
Reflections Garden Room, New York City
Who is Captivate! designed for?
Captivate! is designed for women who are ready to be seen — but whose various conscious and unconscious fears are holding them back from exposing (or expanding the reach of) their truly dazzling brilliance.
Only 20 seats are available, so if you feel called? Don't hesitate.
What will you experience at the event?
Together, we'll heal the patterns that keep you from truly aligned expression, and you'll learn how to use your natural personality, vision, and gifts to captivate your ideal clients online, behind the camera, and from the stage. (No gross sales tactics or exhausting launching necessary.)
You will learn how your essence, story, and soul themes can be used to clear your mind and body of anxiety or fear energy that keeps you from expanding your work and being seen for your greatest gifts and soul purpose.
But you don't have to take my word for it, love. Just ask my student and Captivating Feminine Leader Tanyada Soonthon who discovered:
"Tuning into my essence has been key and to understand that was a big Ah-Ha! Also remembering to tune into my intuition no matter what the outside circumstances look like."
This class includes hands on training and guidance with all of my healing tools, and extensive discussion about healing work, and what it is to heal yourself and others of the fear of being seen.
What will you learn?
How to deepen your connection to your purpose as a leader and healer

Techniques to elevate your confidence, intuition, and talents when in the spotlight (of any kind)

Strategies to help you to live freely, and open your heart to the power of being truly seen

The keys to expressing yourself more freely and with magnetism online and off
During the class we will work intimately to heal your fear of being seen and expanding your reach.
You will be able to use your natural personality, gifts, and new embodiment techniques to captivate your ideal clients online, behind the camera, and from the stage when you leave this class.  
Your time has come. There is no need to wait, and no more time to lose.
The only question is… will you step forward and say yes?
Or will you stay small, letting the world shift and transform for you (when you have the power to transform it yourself)?
I'll let you decide.
But I would love to see you in New York City.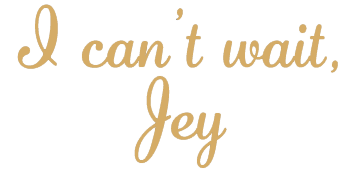 P.S. Don't forget to listen to your Captivating confidence Meditation before the link expires! You can listen to it right here for the next 72 hours for free (you'll find it at the bottom of this page).
P.P.S. REMINDER: The cart closes for this event on June 29th, so if you want to join us in July? The moment to get moving is… right now. 😉
And reminder: If you can't make it to the July workshop? You can still join me at one of the additional workshops and retreat:
Workshop 2, Feminine Leadership (September 8th – 9th 2018, Venice Beach House, Los Angeles, CA): Learn to lead, love, and run your business from an intuitive, aligned, and visionary model. Grab your ticket.

Workshop 3, Leading Groups of Women & Sister Circles (November 10th – 11th 2018, Hawthorn Farm Moonlodge, Medfield, MA): Discover how to prepare intrinsically and learn rituals for holding space for circle work and groups of women. Grab your ticket.
Click here to get all the details and grab your tickets before they sell out!
If you enroll in 1 or 2 of the CFL workshops (Captivate, Feminine Leadership, and/or Leading Groups of Women and Sister Circles) within 72 hours, you get your hands on some absolutely fabulous bonuses: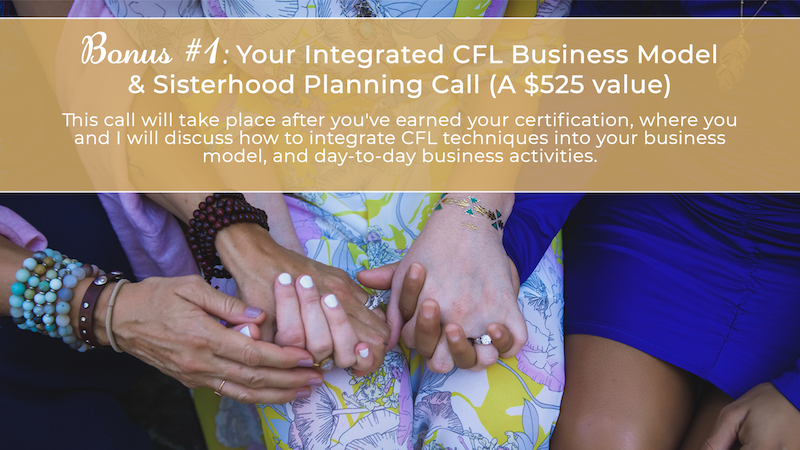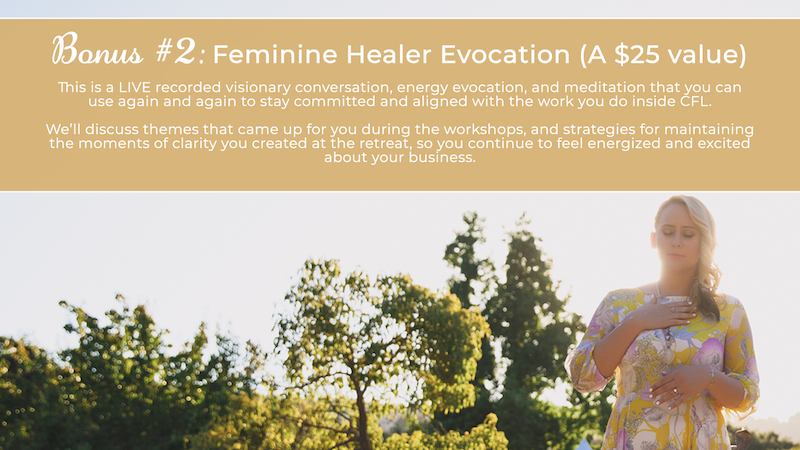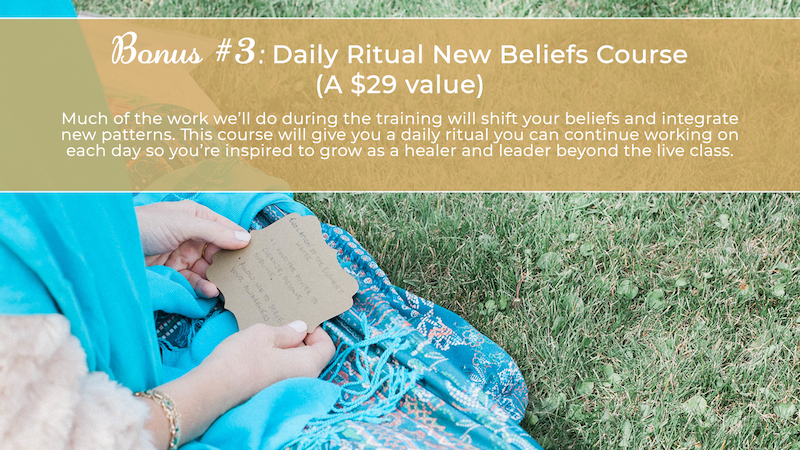 Bonus #1: Your Integrated CFL Business Model & Sisterhood Planning Call (A $525 value)
This call will take place after you've earned your certification, where you and I will discuss how to integrate CFL techniques into your business model, and day-to-day business activities.
Bonus #2: Feminine Healer Evocation (A $25 value)
This is a LIVE recorded visionary conversation, energy evocation, and meditation that you can use again and again to stay committed and aligned with the work you do inside CFL.
We'll discuss themes that came up for you during the workshops, and strategies for maintaining the moments of clarity you created at the retreat, so you continue to feel energized and excited about your business.
Bonus #3: Daily Ritual New Beliefs Course (A $29 value)
Much of the work we'll do during the training will shift your beliefs and integrate new patterns. This course will give you a daily ritual you can continue working on each day so you're inspired to grow as a healer and leader beyond the live class.
If you're ready to enroll in all 3 trainings within 72 hours? You get access to all of the above, PLUS even more goodies in the bargain worth an additional $447: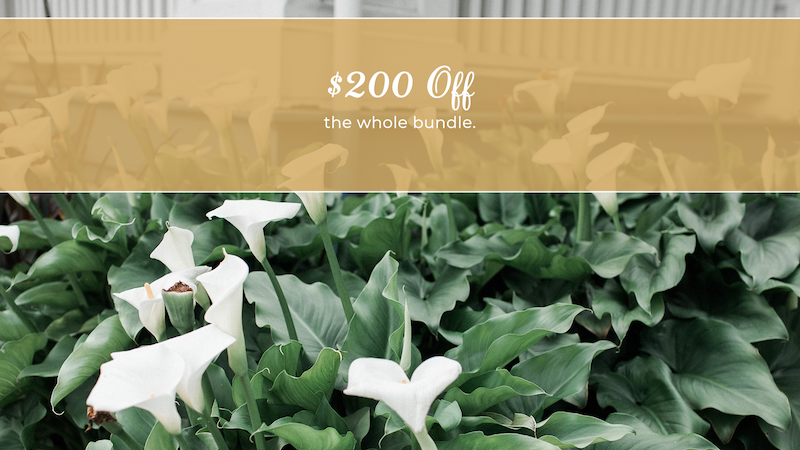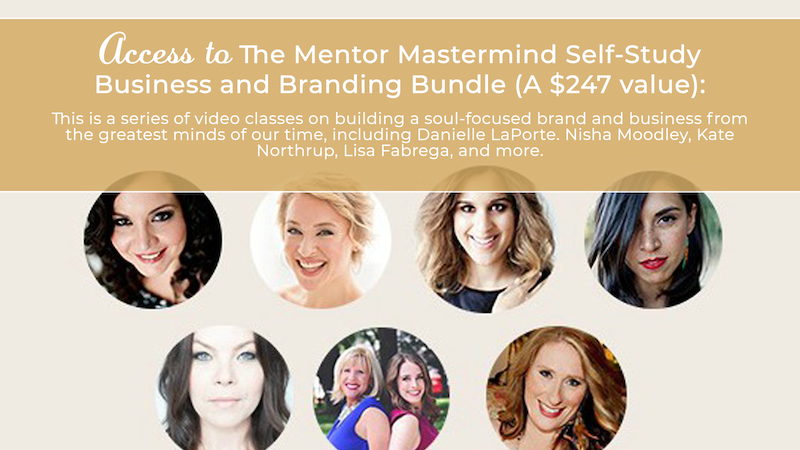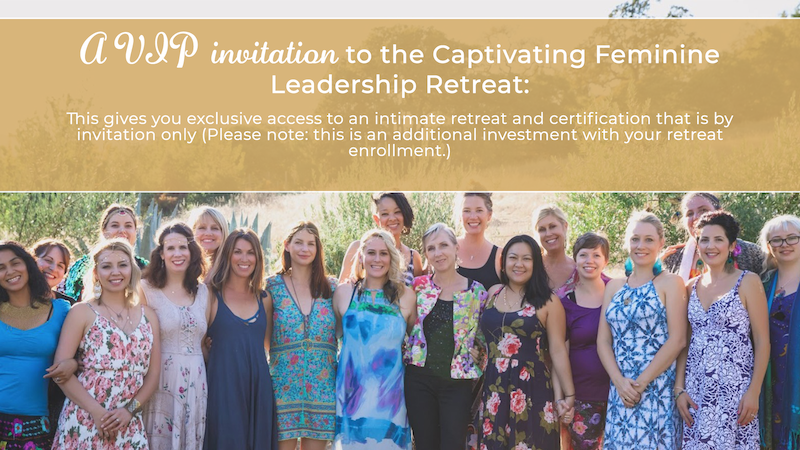 $200 off the whole bundle

Access to The Mentor Mastermind Self-Study Business and Branding Bundle (A $247 value): This is a series of video classes on building a soul-focused brand and business from the greatest minds of our time, including Danielle LaPorte, Nisha Moodley, Kate Northrup, Lisa Fabrega, and more.  
A VIP invitation to the Captivating Feminine Leadership Retreat: While this retreat is normally only available to women inside my Mentor Masterclass program or my Mastermind, you'll receive your coveted invitation by enrolling in the Captivating Feminine Leadership workshops. (Please note: This is an additional investment with your retreat enrollment.)

Love this content? Get weekly in-the-know solutions and stay connected with Jey
Join 1,000s of women expanding their light around the world.