Why Women Will Change The World (Captivating Leadership Training, Part 4 of 4.)
"Women hold up half the sky." -Chinese proverb.
I just completed 16 hours of straight dancing. I don't know about you, but I have never had a 16 hour dance party! When shit is hitting the fan in your life, in the world, and in your business, what you need is sisterhood and dance. What will heal you is sensual pleasure, power, fiery rage, giggles and the joy that only a 5 year-old truly understands. We live in a time when we're surrounded by women who hold undeniable wisdom and who are willing to be seen and heard in order to create better lives.
For this week's Wake Up Wednesday, I'm sharing Part 4 of my brand-new FREE training series all about Captivating Feminine Leadership. I hope you've enjoyed this sister-shared devotional time and felt inspired to create freedom in your life. I've loved getting to share some simple ways to rise up as a Captivating Feminine Leader with you.
If you're just joining us, here's how to get caught up:
In Part 1 we walked through the "why" behind Captivating Feminine Leadership and what it means to be a captivating feminine leader in our personal lives and in our businesses. Click here to get caught up on Part 1!

For Part 2 we explored the word captivating and how it plays out in our lives.

Then in Part 3, we felt into the deeper meaning behind a term we hear all the time: feminine.
Are you with us, sister? 🙂 Good! In this final week of the training, we'll be talking about the concept of leadership – what it really means, and how it's connected to being a captivating and feminine leader.
Leadership is about holding the people working with us and being in the present moment with them, in the mess, right now. It's about being with these parts of ourselves and integrating them. And it's still important to feel confident, with passionate resolve.
The dance training I did this weekend was called Embody. I'm completing a course to get my certification so I can bring embodiment work and dance into the new program I'll be launching in 2018 for women who want to integrate all parts of themselves into wholeness. Merging the badass CEO in you, with the nurturing mama, the fierce and fiery activist, the sensual pleasure seeker and the playful muse.
A metaphor I love to use is that you can't have 20 leaders in a battlefield, each with her own agenda. It's not a team.  
There's a new way to think of leadership:
The leading of others.

The leading of the self.
Being a leader doesn't necessarily mean leading externally all the time. It also means that when you're the one on the frontlines, you recognize you couldn't be there without those standing behind you. Everyone is integral, right down to the craftsman of your shield. So make it a point to be receptive, and use the shield with gratitude.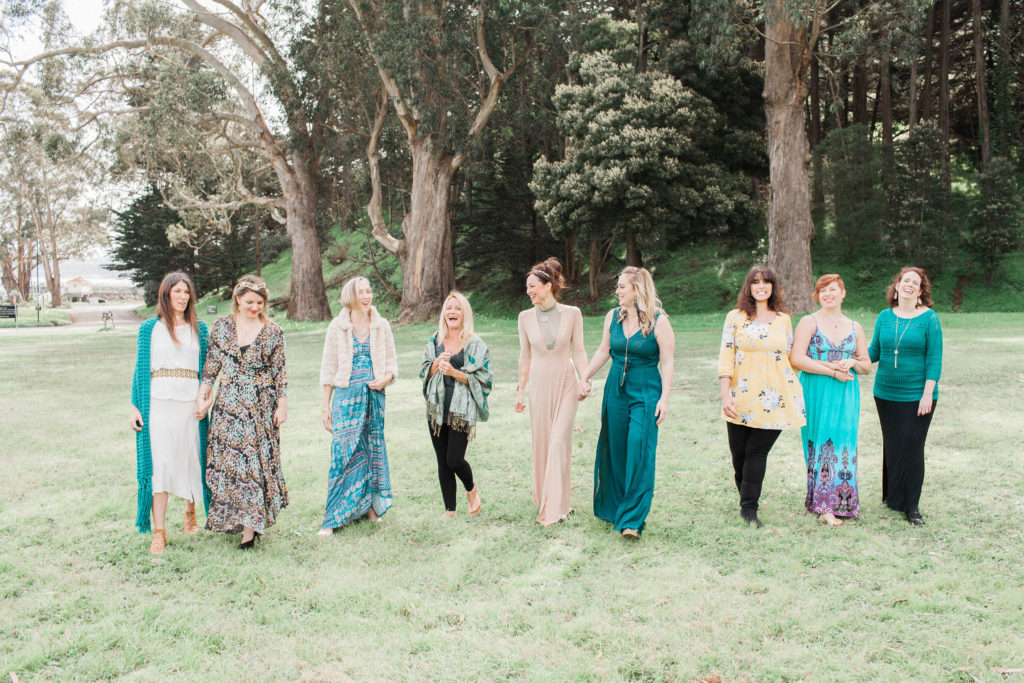 Supporting other people is leadership.
Sometimes, your calling is to support another truth that's needed in the world. To support someone else and a bigger cause with your unique knowledge, skills and resources is tribal leadership.  
Behind the scenes on my own team, we came together for meetings where we created our team culture and intentions. After some brainstorming and fine-tuning, Team Jey (as we call ourselves) came up with these values:
Trailblazer

Self-Responsibility

Love & appreciation

Tribal collaboration

Inner glow

Abundant flow

Whole-heartedness
I believe that tribal leadership is why we're all connected here together in our sisterhood. Everyone is integral as we step into a new era of leadership where there are not 20 egos on the battlefield! Instead, we look around the circle and feel united and moving in one flow with one mission. We know each other's work and see how each of us is uniquely designed to support it.
If you're a lone warrior (like I once was) your business won't survive.
In this sisterhood, we're trailblazers united in a circle. We value:
Authenticity

Commitment

Defying the odds

Freedom

Self-responsibility

Sisterhood

Our version of sustainable success

Creativity

Inspiration
I believe in creating our leadership by living every day in ourselves and bringing these same principles we practice in business into our personal lives. No one in this circle is a sheep and no one I bring to support you will ever be. This is important to me as a leader and teacher.
Remember, you must be receptive to your team. You must collaborate in order to lead. Look inside and ask yourself: where are you resisting collaboration? Either from different elements of yourself: How does your inner child collaborate with your fierce hustling warrior queen energy? Or from your personal relationships: How do you integrate advice from your husband and feedback from your VA into your next launch?
Next, I'm sharing with you my big income goal.
It's $2.4 million, and it's not a specific number I want or need. It's not a number I've created to get more things. It's a real number that I wouldn't have considered possible back when I was in maintenance mode, rather than open and and receptive. But now I feel confident that I can expand to the next level of service.
I know don't have to be a household name or a celebrity coach to make it happen. I can post pictures of my daughter more then I post inspirational quotes, and vacation with my husband rather than launch four times each year.
I want you to know your number…and to know it's not about the actual number! Because leadership isn't tied to numbers – it's tied to results, satisfaction, and feeling joy and love.
Leadership is collaboration. Leadership is Tribal.
Now ask yourself:
What mission is your work connected to?

Reach out to someone who is also a part of that greater mission.

Ask for feedback from someone in your personal life about your next move.

Bring them onto your team.
Feminine Leadership means a woman powerfully standing in her feminine presence and radiance, regardless of her background and qualifications.
She is divinely qualified to serve humanity with her gifts. She knows and feels that deep in her soul.  
Feminine Leadership evokes freedom, unity and possibilities. It celebrates everyone. It inspires, empowers and encourages the ability to engage people as equals.
Feminine Leadership chooses compassion and collaboration over control and competition. It brings heart, soul, joy, love, wisdom and beauty to its purpose. When women are empowered everyone wins.
The world is yearning for women to stand in their power. Everywhere old paradigms are breaking down.The old paradigm is loneliness, competition, struggle, and overworking. The new paradigm is, "YES I can, and I can do it with ease, magic, support, and grace."
Feminine leadership is about service, and following your soul's calling with a new kind of business model that invokes the merging of ambition and ease. Women globally are standing at the threshold of a shift that will change the world.
Women are the untapped resource of our planet. Soul sisters around the world are waiting for us to step up, do our thing and prosper so they can give themselves permission to step into their own greatness and shine their light, too.
So let's begin! Enjoy your freedom, and take the lead.
P.S. I'm calling in 16 women to join me for the first-ever Captivating Feminine Leadership Certification Training and beta sisterhood mastermind. The program/mastermind will start in March of 2018.  
*In order to qualify you must be an alumnae of Mentor Masterclass or, if you haven't been certified by or worked with me before, share (through our application process) how you are integrating tribal leadership, sisterhood and coaching mastery into your current business.  
If you're interested in receiving more information about working with me in 2018 and filling out an application, email jey@jeannineyoder.com. In one sentence (please keep it SHORT for now), tell me a little bit about why this resonates with you. We'll follow divine guidance from there.
All my love,

Love this content? Get weekly in-the-know solutions and stay connected with Jey
Join 1,000s of women expanding their light around the world.